Scientific Programme
Information on Scientific Programme of the ASM
SCIENTIFIC PROGRAMME
To download a copy of the registration programme for the 50th Anniversary Annual Scientific 2017 please click here.
The companies who have sponsored this meeting have had no input into the Scientific content of the meeting.
Plenary Speakers and Topics
Pat Wall Lecture - Plenary Session 1
Reward and motivation in pain and pain relief
Professor Frank Porreca (Arizona, US)
The experience of pain depends on interpretation of context and past experience that guide the choice of an immediate behavioural response and that influence future decisions of actions to avoid harm. The aversive qualities of pain underlie its physiological role in learning and motivation. Both pain, and the relief of pain, are complex emotions that are comprised of feelings and their otivational consequences. Relief of aversive states, including pain, is rewarding. Termination of aversive states can directly provide relief as well as reinforce behaviours that result in avoidance of pain. Brain circuits mediating the reward of pain relief, as well as relief-induced motivation are significantly impacted as pain becomes chronic. The impact of pain on these evolutionary ancient and conserved brain limbic Circuits may represent a path forward for discovery of new pain therapies.
Plenary Session 2
Lessons learned from US opioid prescribing
Dr Jane Ballantyne (Seattle, US)
There is a single statistic that tells much about what happened with opioid prescribing in the US: the US currently consumes more than 80% of the world's prescription opioid supplies for a world population of less than 5%. Do Americans have more pain – obviously not. What factors produced what became an 'epidemic' of prescription opioid abuse and deaths? This session will describe how opioid prescribing got out of hand in the US, what steps the US is now taking to address the fall-out from decades of overprescribing and what can be learned from the US experience.
Plenary Session 3
The continuum of acute to chronic pain after surgery
Professor Stephan Schug (Perth, Australia)
Postoperative pain is one of the most common manifestations of acute pain. There has been significant progress in understanding its pathophysiology and improving its management. Multimodal and procedure-specific approaches have been driving this progress. In parallel, there has been the recognition that chronic postoperative is an underestimated problem with rather high incidence and significant consequences for patients affected by it. These observations have confirmed the concept of chronification of pain, suggesting a continuum of acute to chronic pain. This approach contradicts previous concepts of acute and chronic pain as clearly separated entities and opens new approaches for prediction and prevention
Plenary Session 4
Beyond belief: functional contextual psychological approaches to chronic pain
Professor Lance McCracken (London, UK)
The concepts "coping" and "pain beliefs" have dominated in psychological analyses of chronic pain, until now. Now we have newer principles, "beyond belief" in an evolutionary sense, and "beyond belief" in that they are counterintuitive. Applications of these newer principles include Acceptance and Commitment Therapy (ACT) as one example. Evidence for ACT in chronic pain includes 20 outcome studies,10 of these RCTs, focused on effectiveness and mechanisms of action. These developments include distinct philosophy and theory. From these we shift focus beyond managing pain, and beyond feeling, thinking, or believing, as the main determinants of determine of how well one performs and flourishes.
Plenary Session 5
Pain and sleep: the devil is in the 'reciprocal' relationship
Dr Nicole Tang (Warwick, UK)
A commonly drawn conclusion from existing research is that the relationship between pain and sleep is 'reciprocal' in nature. However, the 'reciprocal' relationship has only been defined in broad strokes.
- The magnitude of, direction of and mechanisms underpinning the pain-sleep relationship
- The pain-sleep relationship in different populations, across different contexts, and over different timeframes.
- Development and implementation of novel multidimensional treatments
- Important areas for future research
Plenary Session 6
Top 5 Non-Trainee posters
The abstracts for these presentations can be found in the front of the poster abstract booklet.
Cordycepin, a novel compound for treating osteoarthritic pain. Sadaf Ashraf
Higher risk of opioid-induced respiratory depression in children with neurodevelopmental disability: A retrospective cohort study of 12,904 patients. Ben Thomas
Management of chronic pain after surgery: A systematic review. Vikki Wylde
A mega-ethnography of eleven systematic reviews of qualitative research exploring the experience of living with pain. Francine Toye
The effects of radiofrequency neurotomy (RFN) on subjects with sacroiliac joint (SIJ) pain:Results from a double blind, sham, controlled, randomised trail. Kavita Poply
Plenary Session 7
Progress and controversies in neuromodulation
Professor Sam Eldabe (Middlesbrough, UK)
Neuromodulation was introduced into clinical practice in 1967. Since then the therapy has undergone a transformation with regular technological and scientific advances. Much work has been done over the last decade to explore mechanisms of action as well as effectiveness and cost effectiveness of spinal cord stimulation (SCS). As a result NICE recommended SCS for the treatment of refractory neuropathic pain.

The session will concentrate on the clinical applications of SCS exploring the impact of the NICE guidance, recent therapy developments and outcomes. Finally the session will explore past and future sham controlled studies in the area of neuromodulation.
Plenary Session 8
Top 5 Student/Trainee posters
The abstracts for these presentations can be found in the front of the poster abstract booklet.
Nervous system sensitisation and prediction of non-response in people following a physiotherapy intervention for knee osteoarthritis. Helen O'Leary
Metformin attenuates morphine tolerance and potentials morphine effects in a mouse model of neuropathic pain. Amal Alsubayiel
Sex versus gender: Which best predicts use of pain relief strategies. Samantha Wratten
Factors contributing to memory of acute pain in elderly patients undergoing planned and unplanned hip surgery. Monika Halicka
Socio-economic circumstances and chronic pain in old age: A life course approach. Matthew Alexander Jay
Plenary Session 9
Population Paincare
Professor Sir Muir Gray (Oxford, UK)
How can pain specialists meet the rising need and demand for pain control? What is needed is a new approach that uses their knowledge and skill not only for individuals who have been referred but also for all the people in need in the population. We need to be able to answer questions such as:
1. Is the service for people with pain in Manchester of higher value than the service in Liverpool or Birmingham?
2. How many services are there for people in pain in England and how many should there be?
3. Who is responsible for publishing the Annual Report on care for people with pain in Kent?
4. How many people are there with pain in Somerset, is the rate difference from that in Leicestershire?
5. How many people are there with pain in South East London?
British Pain Society Lecture - Plenary Session 10
A resilience approach to chronic pain - challenges for pain research and practice
Professor Liesbet Goubert (Ghent, Belgium)
A huge amount of knowledge is available on risk factors for chronic pain and disability. An increased understanding of those risk factors over the years has informed and improved the multidisciplinary treatment of chronic pain. However, evidence is available that a substantial number of individuals reporting high-intensity pain show "resilience", which can be best defined as the ability to restore and sustain living a fulfilling life in the presence of pain. In this presentation, a resilience paradigm of (chronic) pain will be proposed. It will be argued that considering both risk ànd resilience mechanisms may be crucial in the prevention and treatment of pain-related disability and reduced quality of life.
Streamed Parallel Sessions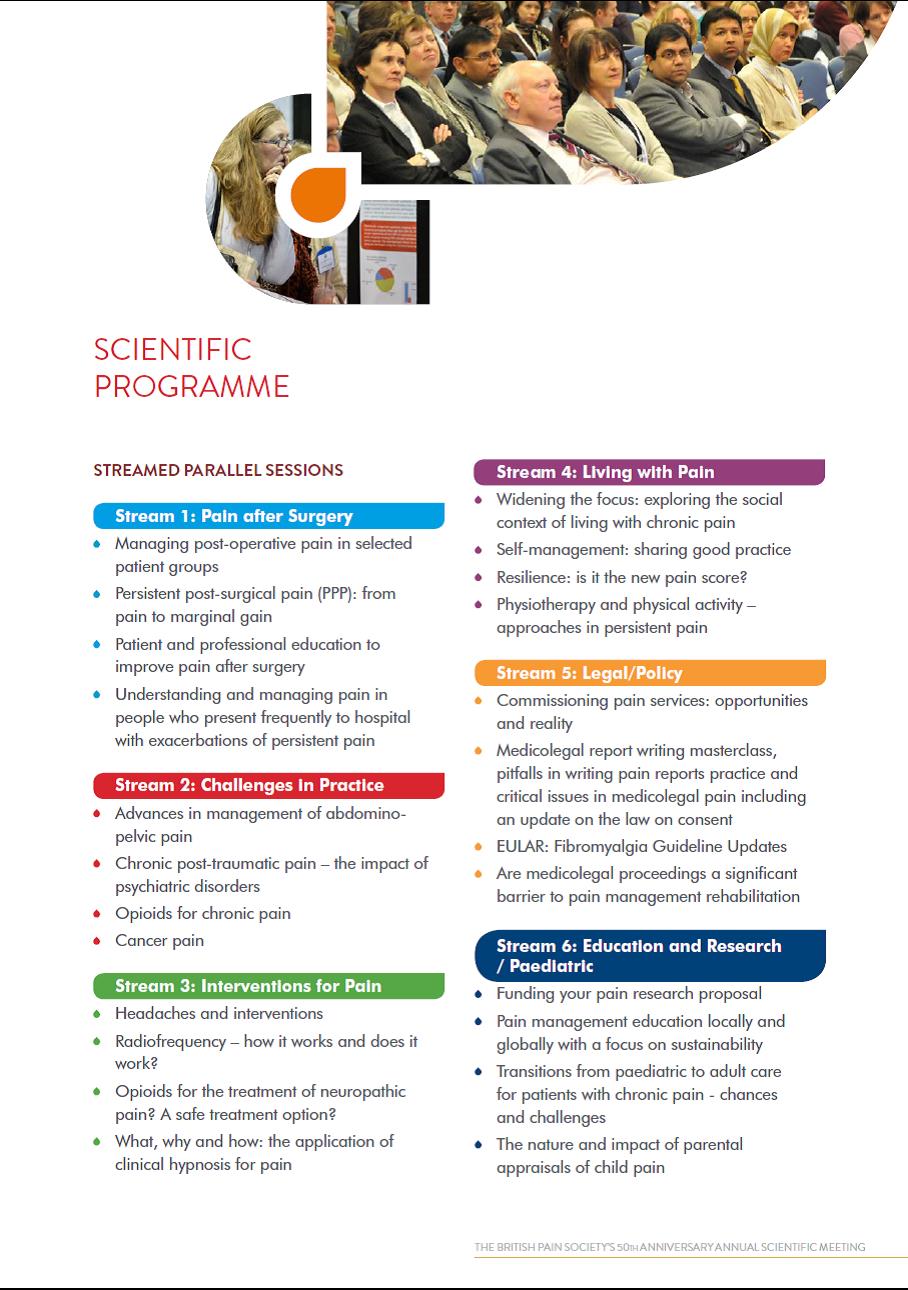 Parallel Sessions A1 - A6
Participants are asked to choose one from the following six sessions below and indicate their preferred option on the online registration form.
A1: Chronic post-traumatic pain – The impact of psychiatric disorders
Dr Jon Valentine, Chair
Introduction and clinical scenarios, Dr Jon Valentine
Post-traumatic stress disorder; why does it matter?, Dr Michael Spencer
The impact of anxiety and depression; is the prognosis always so gloomy? Professor George Ikkos
A2: Opioids for chronic pain
Professor Roger Knaggs, Chair
Molecular and circuit basis for the use of opioids in pain treatment
Neuroadaptations that limited the utility of opioids for chronic pain
A3: Managing post-operative pain in selected patient groups
Dr Nilesh Chauhan, Chair
Post-operative pain management in the obese patient, Professor Stephan Schug
Post-operative pain management of opioid tolerant patients, Dr Jane Quinlan
The post-operative patient in pain – challenges for intensive care, Ms Peggy Christie
A4: What, why and how: the application of clinical hypnosis for pain
Dr Sue Peacock, Chair
Clinical hypnotherapy for pain: What's the evidence? Dr Sue Peacock
Dissociative techniques for management of chronic pain using hypnosis, Dr David Rogerson
Demonstration and teaching of a hypnotic relaxation, Ms Jane Rogerson
A5: Radiofrequency – how it works and does it work?
Dr Chris Wells, Chair
The Science of radiofrequency, Dr Chris Wells
The evidence behind facet joint radiofrequency denervation, Dr Stephen Ward
The evidence behind sacroiliac joint radiofrequency denervation, Dr Vivek Mehta
A6: Commissioning pain services: opportunities and reality
Dr John Hughes, Chair
Current role of the Clinical Reference Group for Specialised Pain Services, Dr John Hughes
CCG pain commissioning: when and how, Dr Andrea Jones
Commissioning from the publics perspective, Dr Martin Johnson
Parallel Sessions B1-B6
Participants are asked to choose one from the following six sessions below and indicate their preferred option on the online registration form
B1: Medicolegal report writing masterclass, pitfalls in writing pain reports practice and critical issues in medicolegal pain including an update on the law on consent
Dr Rajesh Munglani, Dr Jon Valentine and Dr Joshua Adedokun, Co-chairs
Understanding the language and expectation of the Court of you as an expert and how not to get into trouble! Dr Giles Eyre
Fundamental legal issues in pain medicine; an interactive session, Mr Pankaj Madan
Fundamental legal issues in pain medicine; an interactive session, Dr Rajesh Munglani
B2: Persistent post-surgical pain (PPP): from pain to marginal gain
Dr Paul Farquhar-Smith, Chair
Clinical manifestations of persistent post-surgical pain and current treatment paradigms, Dr John Williams
Visceral persistent post-surgical pain: the elephant in the room, Dr Paul Farquhar-Smith
Application of a complex intervention to address post breast surgery persistent post-surgical pain, Dr Matt Brown
B3: EULAR: Fibromyalgia Guideline Updates
Dr Ann Taylor, Chair
Methods and pharmacological recommendations, Professor Ernest Choy
Non pharmacological recommendations and discussion, Dr Gareth Jones
EBM or individualised care: the dichotomy, Dr Ann Taylor
B4: Advances in management of abdomino-pelvic pain
Dr Andrew Baranowski, Chair
Contribution of pelvic floor to chronic pelvic pain. How can interventions assist MDT? Dr Roman Cregg
Assessing the bladder, bowel and pelvic floor in chronic pain states, Dr Sohier Elneil
Recurrent UTI: The 'real' cause of pain in the bladder? Dr Rajvinder Khasriya
B5: Self-management: sharing good practice
Mrs Gill Simon, Chair
Barriers to self-management of chronic pain in primary care, Ms Renee Blomkvist
Developing a social network to support self-management - the Eugenie Tool, Professor Ann Rogers
Models of healthcare that support self-management of pain, Dr Frances Cole
B6: Funding your pain research proposal
Professor Sam Ahmedzai, and Professor Sam Eldabe, Co-chairs
What funders expect in a pain research application, Professor Martin Underwood
Writing a successful NIHR pain application, Mrs Selina Johnson
Arthritis Research UK Pain Research Funding, Dr Craig Bullock
Parallel Sessions C1-C6
Participants are asked to choose one from the following six sessions below and indicate their preferred option on the online registration form
C1: Are medicolegal proceedings a significant barrier to pain management rehabilitation?
Dr Joshua Adedokun, Chair
Legal process and perspectives for patients with pain, Ms Fiona Ashworth
Medicolegal perspectives when making recommendations for pain rehabilitation, Dr Charles Pither
Potential barriers to pain rehabilitation from ongoing medicolegal proceedings, Dr Zoey Malpus
C2: Patient and professional education to improve pain after surgery
Professor Michelle Briggs, Chair
Improving pain after surgery in 2017, Professor Michelle Briggs
Managing acute pain at home: information for patients, Ms Ruth Day & Mr Antony Chuter
Patient self-reporting and real time education to reduce the impact of persistent pain following breast cancer surgery, Sue Hartup
C3: Headaches and Interventions
Dr Neil Collighan and Dr Vivek Mehta, Co-chairs
Botox – how we got here and where are we going? Dr Anna Andreou
Neuromodulation in the management of headache, Dr Vivek Mehta
Pulsed RF for Greater Occipital Nerve, Dr Sarah Love-Jones
C4: Widening the focus: Exploring the social context of living with chronic pain
Dr Ed Keogh, Chair
Supporting children with chronic pain in school: A qualitative exploration of Irish primary school teachers' experiences, Dr Line Caes
Relationships in adolescent chronic pain: Results of a qualitative synthesis, Dr Abbie Jordan
The social negotiation of successful return to work with chronic pain between doctors, patients and employers, Dr Elaine Wainwright
C5: Transition from paediatric to adult care for patients with chronic pain - chances and challenges
Dr Alison Bliss, Chair
Developmentally appropriate services for adolescents and young adults with long term health conditions, Dr Janet McDonagh
Growing Pains: Exploration and identification of the unique needs of emerging adults with chronic pain, Dr Hannah Twiddy
Setting up a transitional service for young patients with chronic pain. The Liverpool Experience, Mrs Selina Johnson/Dr Sally Bell
C6: Physiotherapy and physical activity -approaches in persistent pain
Dr Jane Hall, Chair
Considering physical activity for people who have painful diabetic neuropathy, Mr Ben Davies
Attitudes, beliefs and physical activity in older adults with knee pain, Dr Jonathan Quicke
Neurocognitive approaches in neuropathic pain, Ms Keri Johnson
Parallel Sessions D1 - D6
Participants are asked to choose one from the following six sessions below and indicate their preferred option on the online registration form
D1: Resilience: is it the new pain score?
Dr Ann Taylor, Chair
Lessons from the world of sport, Dr Greg Clarke
Resilience and pain; resilience the new black? Dr Ann Taylor
Resilience, pain and the community: the importance of social networks, Mr Owen Hughes
D2: Opioids for the Treatment of Neuropathic Pain? A safe treatment option?
Dr Bernhard Frank, Chair
Opioids in chronic non-malignant neuropathic pain, Professor Lesley Colvin
Clinical management of patient with difficult to treat neuropathic pain conditions including opioids in a tertiary referral centre, Dr Bernhard Frank
Practical aspects of opioid management in patients with neuropathic pain including neuromodulation. A non-medical prescribers perspective, Mrs Alison Cox
D3: Understanding and managing pain in people who present frequently to hospital with exacerbations of persistent pain
Dr Zoey Malpus & Ms Ruth Day, Co-chairs
Acute exacerbations of chronic abdomino-pelvic pain in women - a gynaecological perspective, Dr Katy Vincent
How an integrated nursing team and excellent multidisciplinary and interdisciplinary communication can help to manage complex inpatients across the pain spectrum, Mrs Karin Cannons
The challenge of engaging frequent hospital attenders in pain self-management, Dr Patrick Hill
D4: Cancer pain
Professor John Snowden, Chair
Research in cancer treatment-related pains and their management, Dr Paul Farquhar-Smith
Rational use of interventional pain procedures in cancer patients at all stages, Dr Aru Bhaskar
Clinical and public health approaches to managing cancer-related pain in survivors, Professor Sam Ahmedzai
D5: The nature and impact of parental appraisals of child pain
Dr Joanna McParland, Chair
Catastrophic pain appraisal: how does it impact parental distress and protective behaviour in response to child pain? Dr Line Caes
An interpretative phenomenological analysis of parental appraisals of unfairness in the context of paediatric pain, Dr Joanna McParland
Parental injustice appraisals in the context of their child's pain: relationship to parental anger and child pain outcomes, Dr Tine Vervoort
D6: Pain management education locally and globally with a focus on sustainability
Dr Victoria Tidman and Professor Michelle Briggs, Co-chairs
Evaluation of educational programmes in overseas health and social care, Professor Colin Coles
Methods of evaluating pain education in pre-registration health courses; results from a systematic scoping review, Ms Kate Thomson
On the receiving end, Dr Tim Johnson & TBC
Programme Outline
Wednesday 3rd May 2017
08:30-18:00 Registration Desk open
08:30-18:00 Technical Exhibition & Poster Exhibition open
09:50-10:00 Welcome by the BPS President & the Chair of the Scientific Programme Committee
10:00-10:40 Plenary Session 1 - British Pain Society Pat Wall Lecture
10:40-11:20 Plenary Session 2
11:20-11:50 Coffee Break
11:50-13:20 Parallel Sessions A1-A6
13:20-14:20 Lunch
13:20-14:20 BPS Satellite Symposium - National Awareness Campaign: Working towards making a difference
14:20-15:50 Parallel Sessions B1-B6
15:50-16:15 Coffee Break
16:15-16:55 Plenary Session 3
17:00-18:00 SIG Business Meetings
Thursday 4th May 2017
08:00-18:30 Registration Desk opens
08:30-18:00 Technical Exhibition & Poster Exhibition open
08:15-09:15 SIG Business Meetings
09:20-10:50 Parallel Sessions C1-C6
10:50-11:50 Poster Viewing Session in Exhibition Area
11:50-12:30 Plenary Session 4
12:30-13:30 Lunch
12:30-13:30 Satellite Symposium
13:30-14:10 Plenary Session 5
14:10-15:25 AGM for British Pain Society Members
15:25-16:30 Plenary Session 6 – Top 5 Non-Trainee posters
16:30-17:00 Coffee Break
17:00-17:40 Plenary Session 7
19:15-late 50th Anniversary BPS Party
Friday 5th May 2017
08:30-16:00 Registration Desk open (Exhibition open until 15:00)
08:30-15:00 Technical Exhibition & Poster Exhibition open
09:15-10:45 Parallel Sessions D1-D6
10:45-11:15 Coffee Break
11:15-12:30 Plenary Session 8 – Top 5 Student/Trainee posters
12:30-13:30 Lunch
13:30-14:15 Plenary Session 9 & Poster Awards
14:20-15:00 Plenary Session 10 – British Pain Society Lecture
15:00 Meeting Closes