How to register
With so many options at the ASM to choose from this year, we have enabled a one-stop booking portal which includes ALL of the supplementary meetings and sessions for you to choose from and book in one place.
Based on previous feedback, we have also introduced multiple day rates, allowing you to really customise the whole experience to your personal requirements.
To register for the ASM including supplementary meetings and sessions please click
HERE
Please note: BPS Members will need to be logged into the website in order to access the member rates.
Once your online registration is complete and your payment has been processed you will be emailed a confirmation of booking.
---
If you are not attending the ASM, but are interested in coming along to one of the supplementary meetings/sessions, you can book to attend each of these directly by clicking on the following links;
Acute Pain "Synchronicity – Working together to reduce chronicity"
Interventional Pain Medicine SIG -"Current updates for your practice".
Opioids update for Non-Medical Prescribers
Early Careers "speed dating" Session
Please note that the 'Meet the Experts' and 'Ultrasound workshop' sessions are only available to those attending the ASM and therefore cannot be booked separately.
---
ASM Registration Fees
The Early Bird deadline has been extended until midnight on 5th February 2020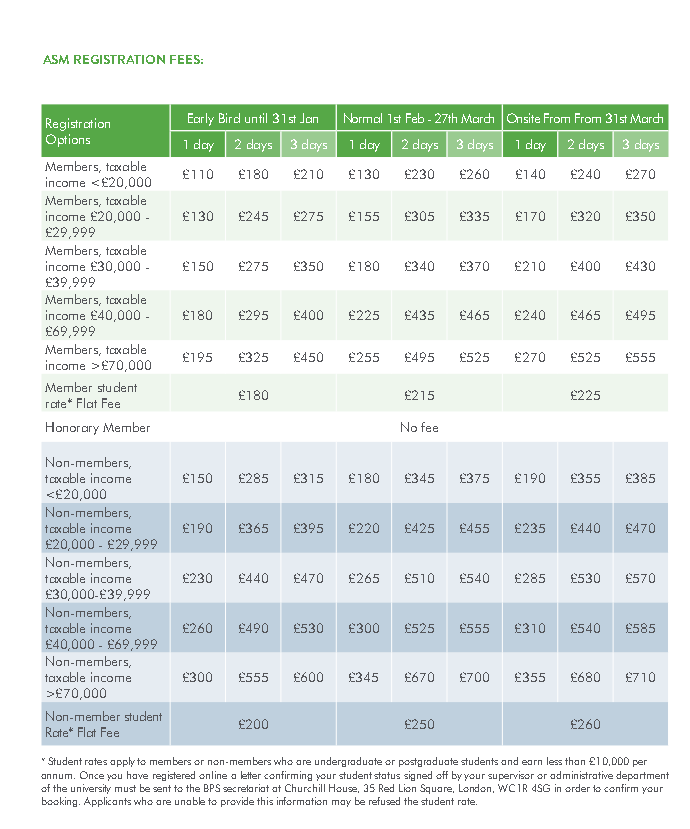 ---
Supplementary Meeting Registration Fees