Pain News - Back Copies
Pain News is the Society's quarterly newsletter, accessible online exclusively for Members, which provides information on a range of pain related issues. Contributions are encouraged from British Pain Society Member.
Back Copies
December 2017
To download a copy of the December edition please click on the image below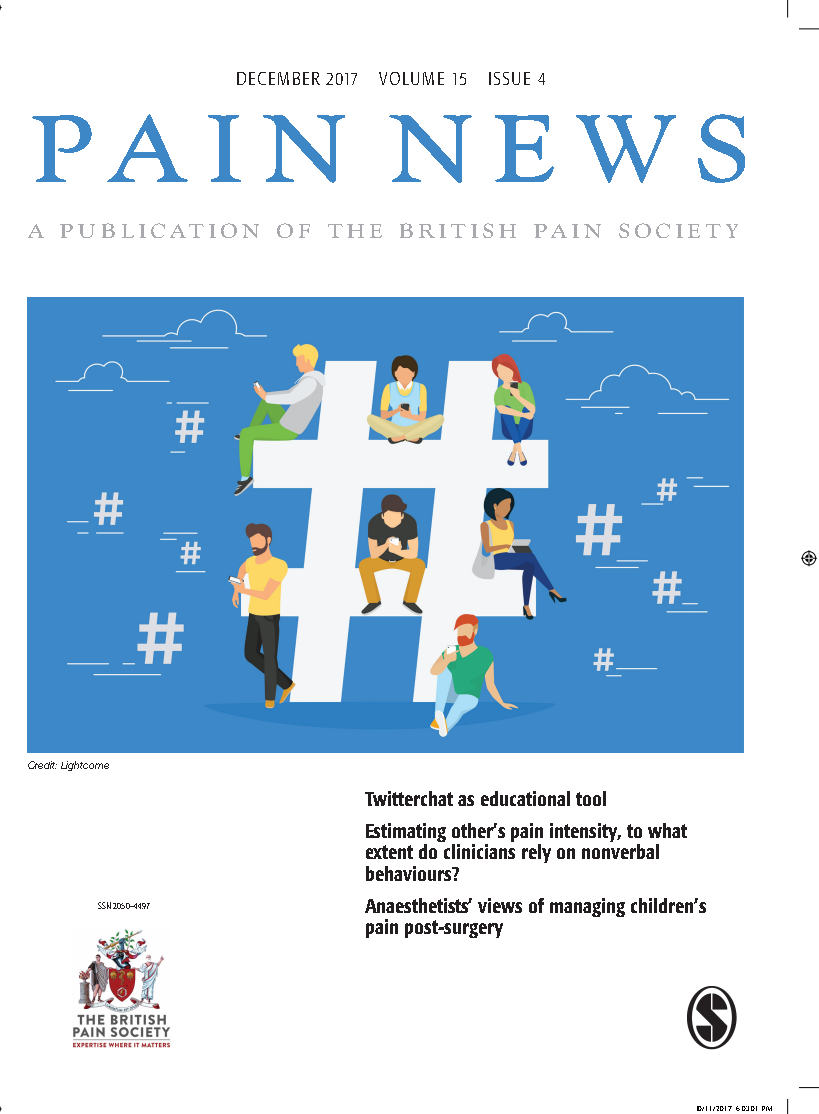 Content:
Twitterchat as educational tool
Estimating others pain intensity, to what extend do clinicians reply on nonverbal behaviours?
Anaesthetists view of managing children's pain post-surgery
---
September 2017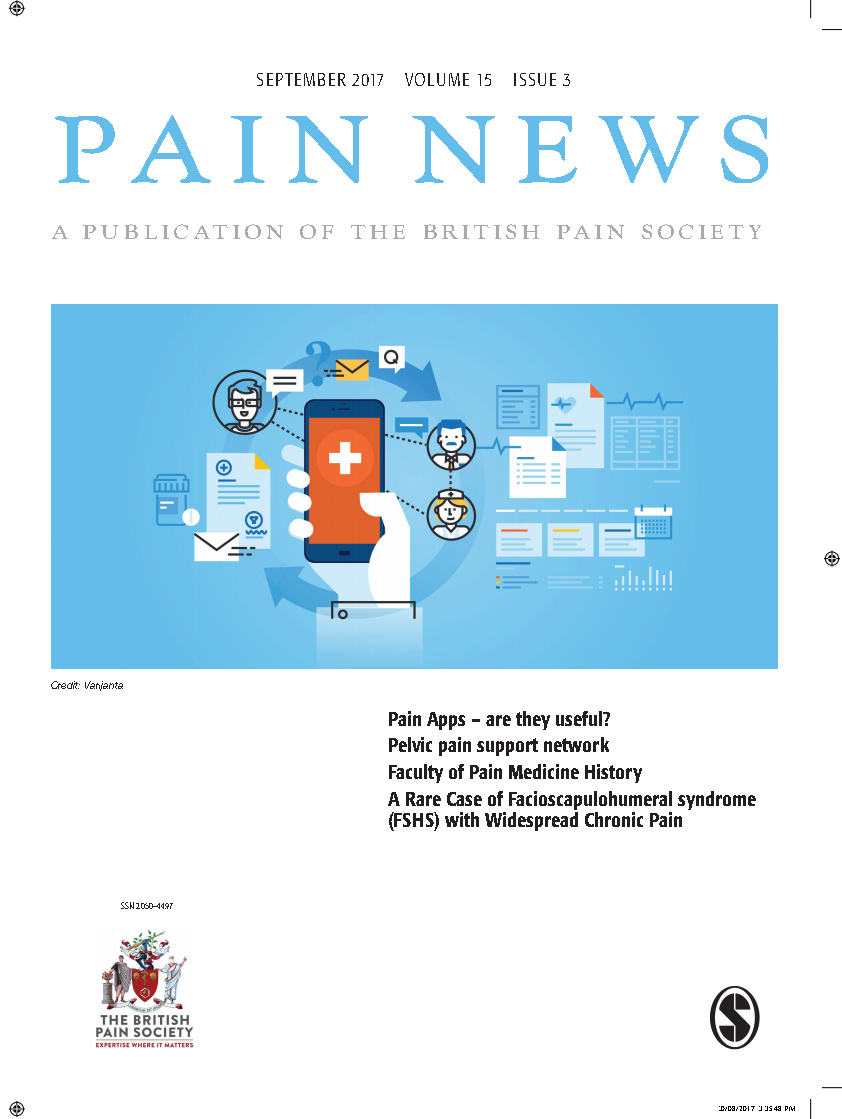 Content:
Pain Apps - are they useful?
Pelvic Pain support network
Facult of Pain Medicine History
A rare case of Facioscapulohumeral syndrome (FSHS) with widespread chronic pain
---
---
June 2017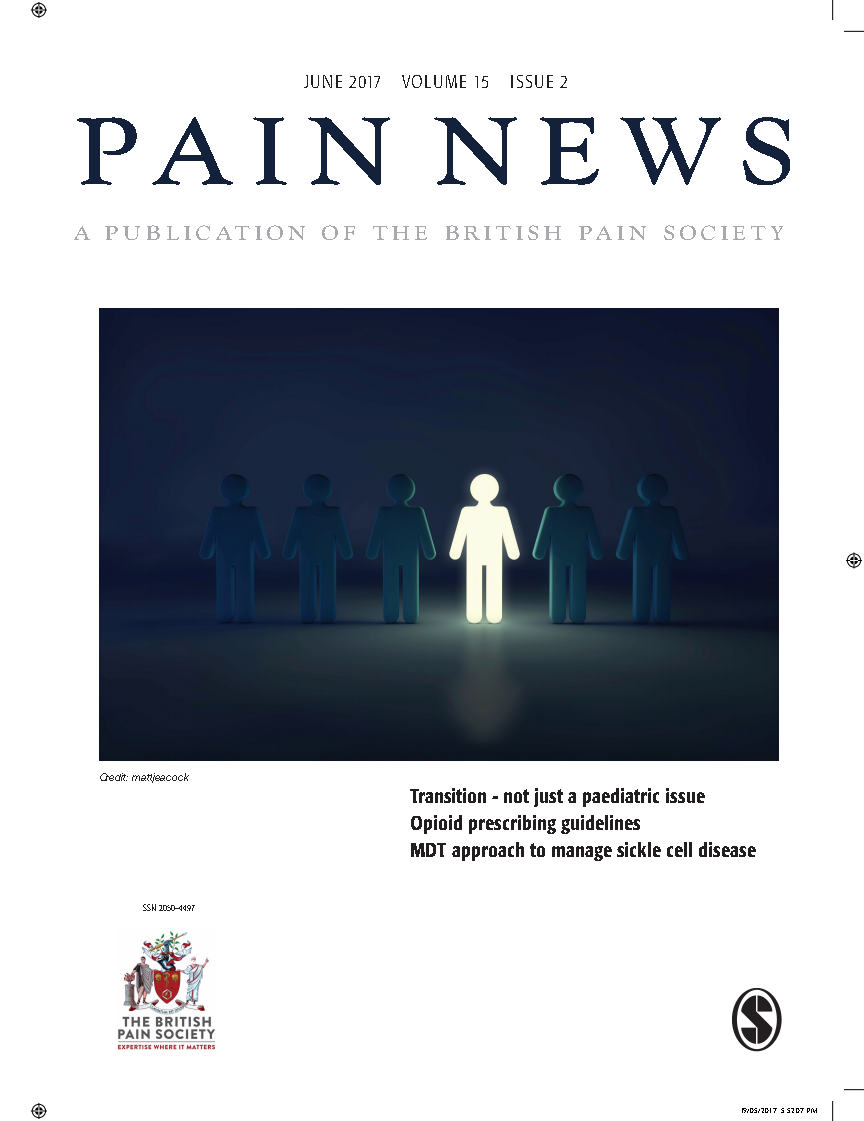 Content:
Transition - not just a paediatric issue
Opioid prescribing guidelines
MDT approach to manage sickle cell disease

---
March 2017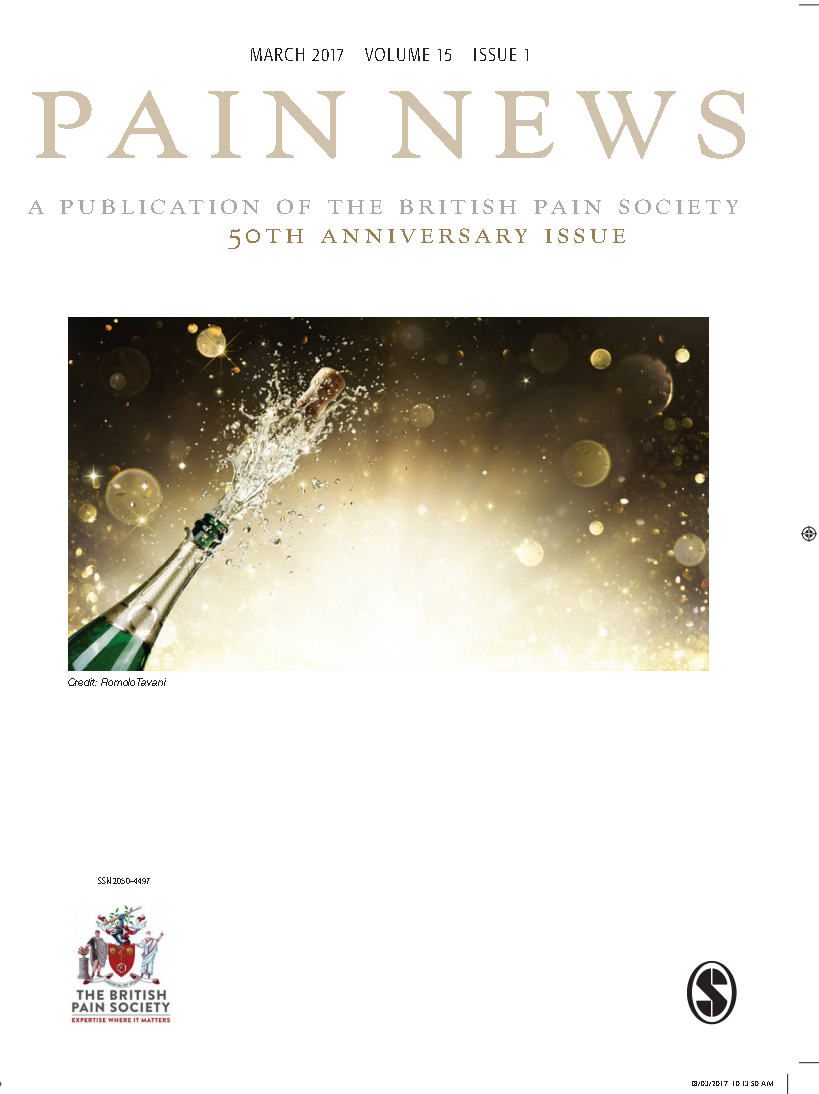 Content:
---
---
December 2016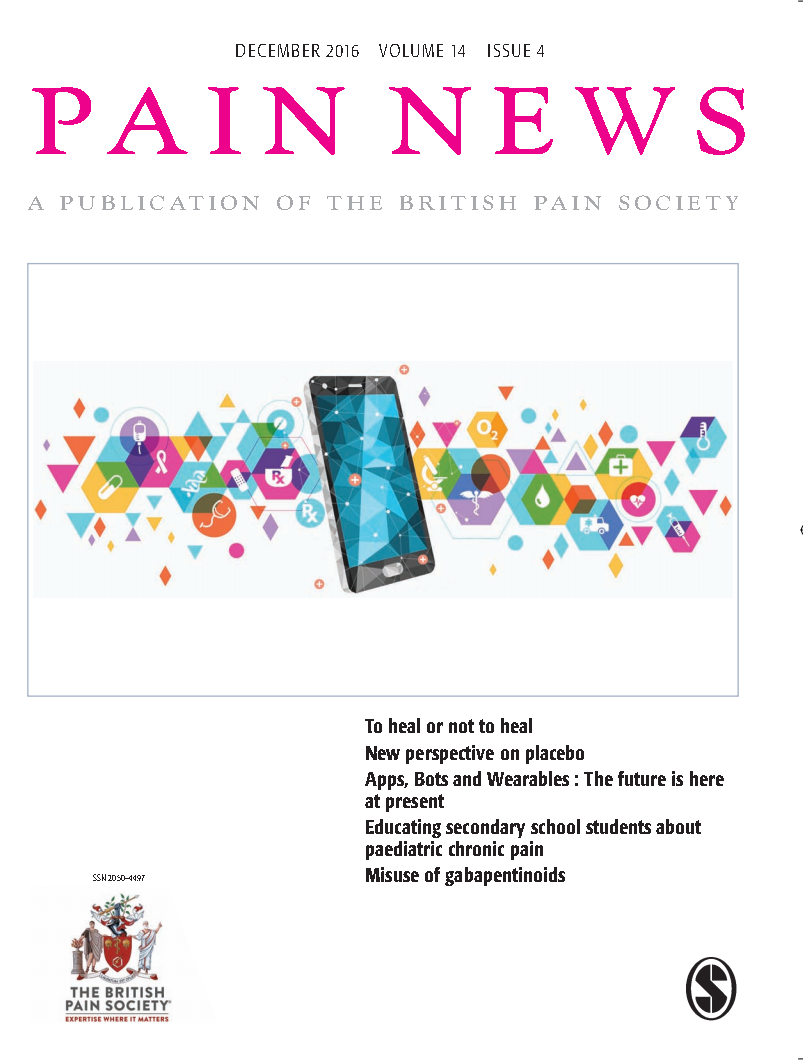 Content:
To heal or not to heal
New perspective on placebo
Apps, Bots and Wearables: The future is here at present
Educating secondary school students about peadiatric chronic pain
Misuse of gabapentinoids
---
September 2016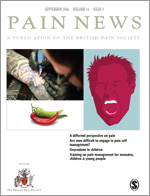 Contents:
A different perspective on pain
Are men difficult to engage in pain self managment?
Oxycodone in children
Training on pain management for neonates, children and young people
---
June 2016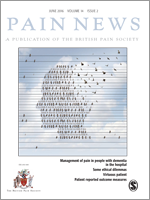 Contents:
Management of pain in people with dementia in the hospital
Some ethical dilemmas
Virtuous patient
Patient reported outcome measures
---
March 2016
Contents:
Social media for professionals in Pain Medicine
Impact of dysmenorrhea
The diagnosis – shades of grey
The tyranny of hidden waiting list
---
December 2015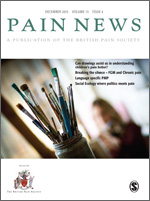 Contents:
Can drawings assist us in understanding
children's pain better?
Breaking the silence – FGM and Chronic pain
Language specific PMP
Social Ecology where politics meets pain
---
September 2015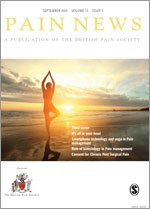 Contents:
Third sector
It's all in your head
Smartphone technology and yoga in pain management
Role of kinesiology in pain management
Consent for chronic post surgical pain
To download the reference list for 'Chronic visceral pain, lessons from cats' please click here.
---
Contents:
Social inequality
Changing practice, challenging systems
Living with effects of thalidomide
Art of chronic pain management in animals
---
March 2015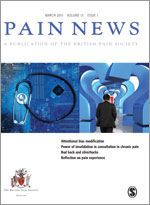 Contents:
Attentional bias modification
Power of invalidation in consultation in chronic pain
Bad back and silverbacks
Reflection on pain experience
---
December 2014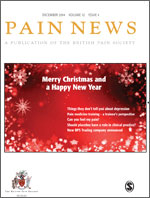 Contents:
Things they don't tell you about depression
Pain medicine training - a trainee's perspective
Can you feel my pain?
Should placebos have a role in clinical practice?
New BPS Trading company announced
---
September 2014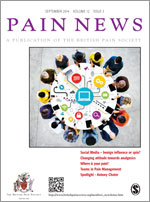 Contents:
Social Media – benign influence or spin?
Changing attitude towards analgesics
Where is your pain?
Teams in Pain Management
Spotlight - Antony Chuter
---
June 2014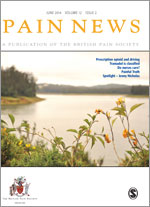 Contents:
Prescription opioid and driving
Tramadol is classified
Do nurses care?
Painful Truth
Spotlight - Jenny Nicholas
---
March 2014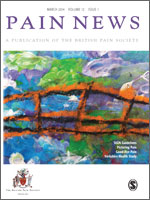 Contents:
SIGN Guidelines
Picturing Pain
Good-Bye Pain
Yorkshire Health Study
---
December 2013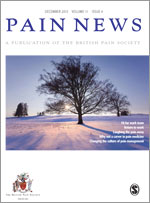 Contents:
Fit for work team
Return to work
Laughing the pain away
Why not a career in pain medicine
Changing the culture of pain management
---
September 2013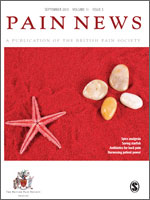 Contents:
Spice analgesia
Saving starfish
Antibiotics for back pain
Harnessing patient power
---
June 2013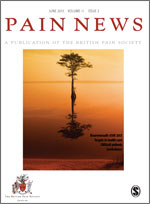 Contents:
Bournemouth ASM 2013
Targets in healthcare
Difficult patients
Jumbulance
---
March 2013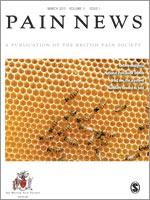 Contents:
Octave analgesia
National Pain Audit launch
Trust me, I'm a patient
Numbers needed to heal
---
December 2012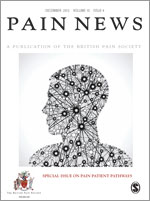 Contents:
Special Issue on Pain Patient Pathways
---
September 2012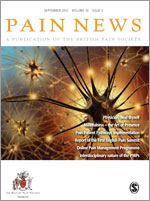 Contents:
Physician, heal thyself
Mindfulness – the Art of Presence
Pain Patient Pathways implementation
Report of the First English Pain Summit
Online Pain Management Programme
Interdisciplinary nature of the PMPs
---
June 2012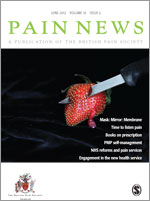 Contents:
Mask: Mirror: Membrane
Time to listen pain
Books on prescription
PMP self-management
NHS reforms and pain services
Engagement in the new health service
---
March 2012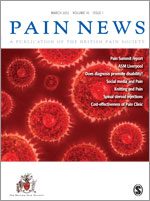 Contents:
Pain Summit report
ASM Liverpool
Does diagnosis promote disability?
Social media and pain
Knitting and pain
Spinal steroid injections
Cost-effectiveness of pain clinic
---